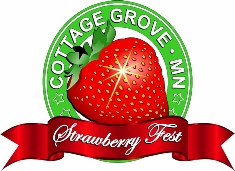 Home
About Us
Events and Contests
Parade
Entertainment
Sponsorship
Food Vendors
StrawberryFields MarketPlace
Monster Bash Parade
Ambassadors
Princess For A Day
Art Fair
2018 Cottage Grove Strawberry Fest
Cottage Grove Strawberry Fest Ambassador Scholarship Program
2017 Cottage Grove Strawberry Fest Ambassadors
Julia - Miss Queen, Dakota - Jr Miss Princess, Emily - Miss Princess, Elizabeth - Jr Miss Queen,
Brynne - Jr Miss Princess, Mio - Little Miss Queen, Trinity - Little Miss Princess


The Strawberry Fest Royal Ambassador Program exists to provide opportunities for involvement with the local and surrounding communities to support the growth and development of young women Ambassadors gain poise, speaking abilities, and interviewing techniques. The ambassadors will travel throughout the greater Twin Cities and will be a part of many volunteer opportunities here in our own community of Cottage Grove. The program's intent is to instill skills that will be invaluable throughout life.
The Cottage Grove Strawberry Fest Ambassador Scholarship Committee is seeking candidates for the 2017- 2018 season. This program is open to young women between the ages of 8-22. Come and learn more about volunteering in the community, create lasting relationships, work with local businesses and non-profit organizations, become a role model, and potentially earn a College Scholarship - all while having fun!